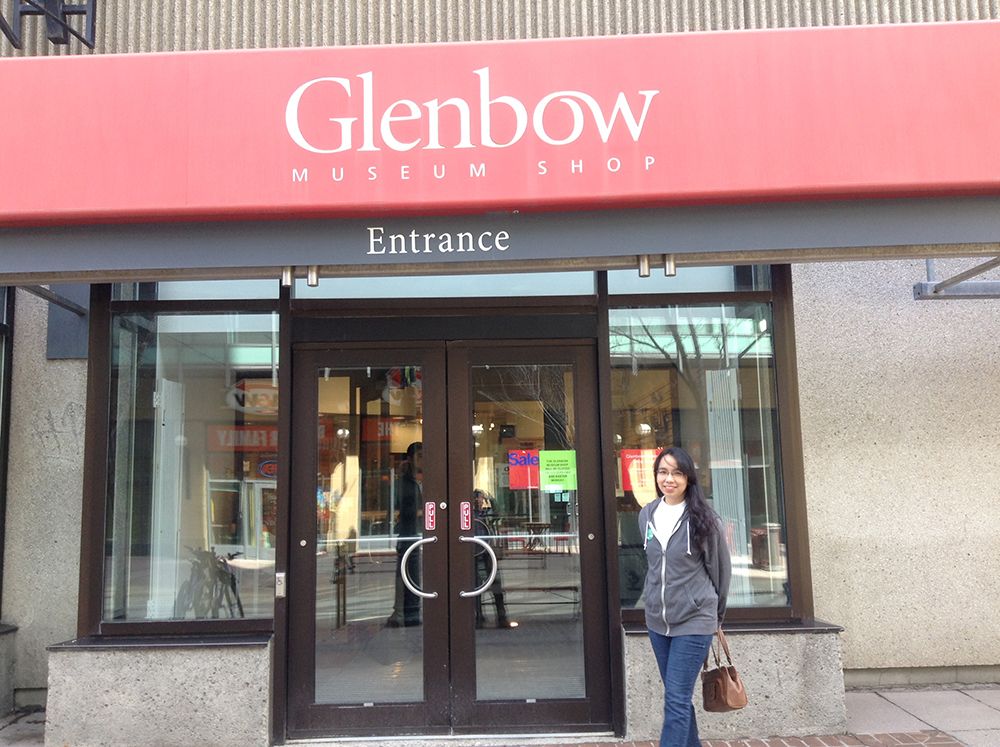 Last Saturday, my husband took me to Center Street of Downtown to visit Glenbow Museum.
The Museum showcases art exhibitions and stunning artifacts from centuries of long ago. There is always something new to ponder on from its ever-changing display of traveling exhibitions for the art lover, pop culture and history fanatic.
When I initially looked at the the museum's guide brochure listing its exhibits, I got the impression of divided rooms, thematically cluttered according to its historical reference.
But I was wrong.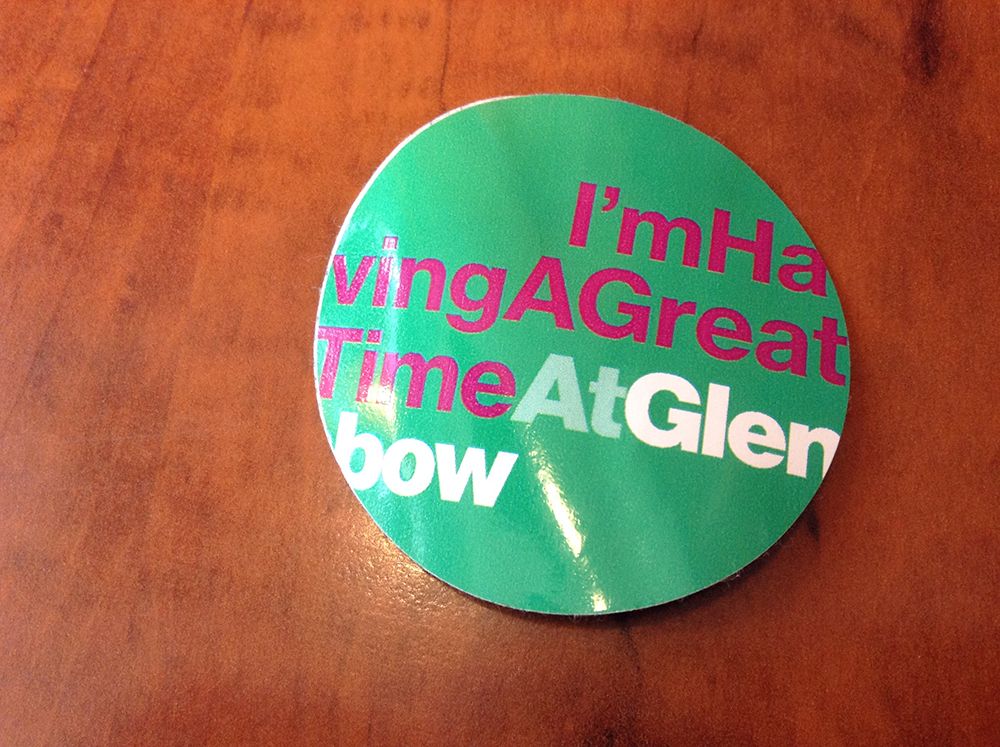 Visiting after a long museum-hiatus, I found myself inspired by the displays of urban fashion, stunning black and white photography by Bryan Adams, ethnic references, etc., with each floor divided in sections of exhibits. All rooms united harmoniously that exiting a section flows smoothly towards a new one.
The spacious floors definitely contributed to this smooth transitions since all exhibits were presented in a minimalist, non-cluttered way. There is no confined pretension of in one place that you are compelled to stay in one place to ponder quietly.
Below are fantastic displays I liked. As with any museum, there were specific exhibits that didn't allow any photography in respect for its artists' work.
On the day we visited Glenbow Museum, here were the exhibits.
Worn to Be Wild
This exhibit featured 50 leather jackets, inclusive of 20th century apparel, Second World War military flight jackets, punk jackets, celebrity jackets and haute couture.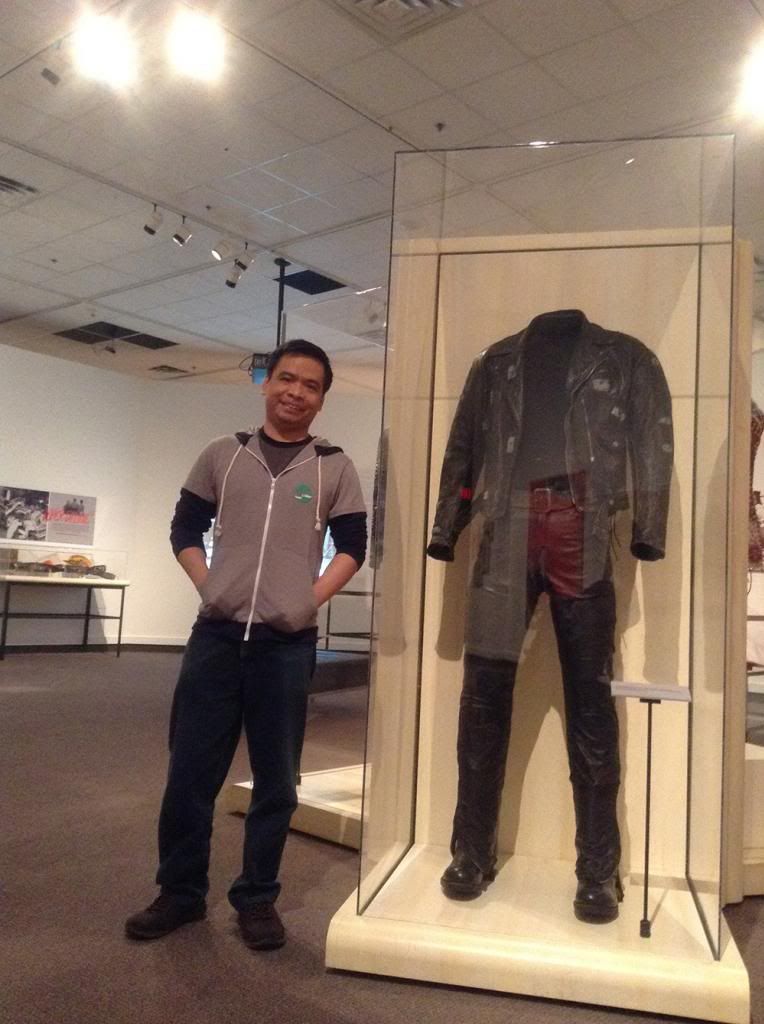 Here is the hubby beside the jacket worn by Arnold Schwarzenegger.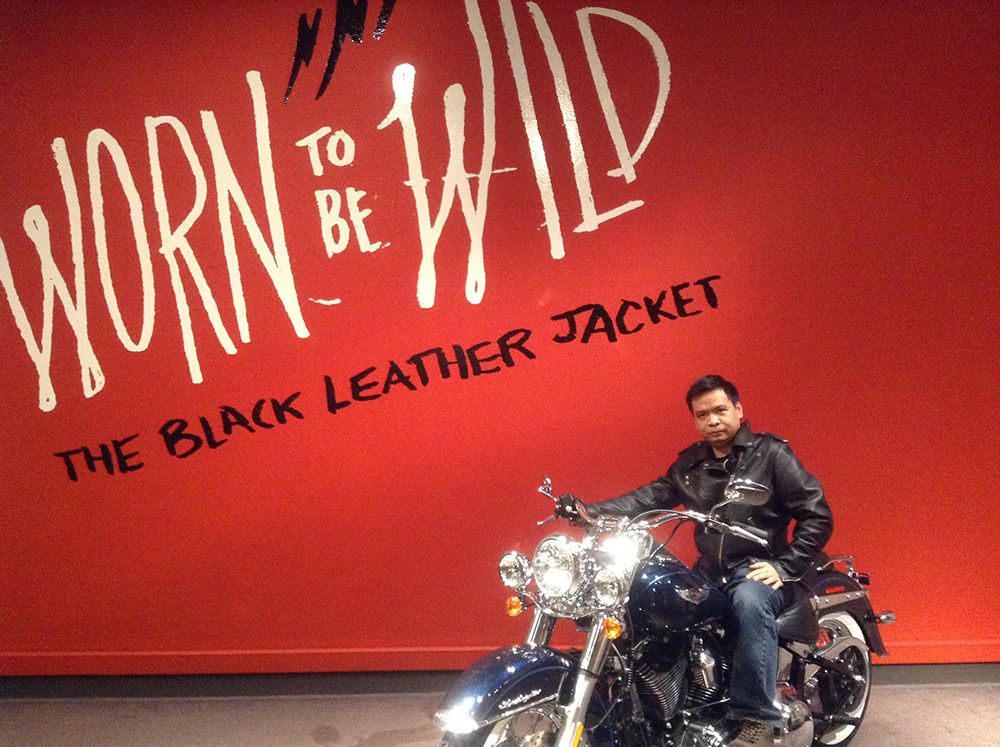 Worn To Be Wild. The Black Leather Jacket
There was also an area wherein you can put on a leather jacket from a nearby selection, sit on a harley and have your picture taken. Above picture was the hubby posing.
Made in Calgary: The 1990s
Made in Calgary is a multi-season exhibition series explores the character of Calgary's artistic community from 1960 to 2010. Each exhibition reflects the contributions of individual artists in the context of the social and cultural factors that influenced their worked.
~ Glenbow Museum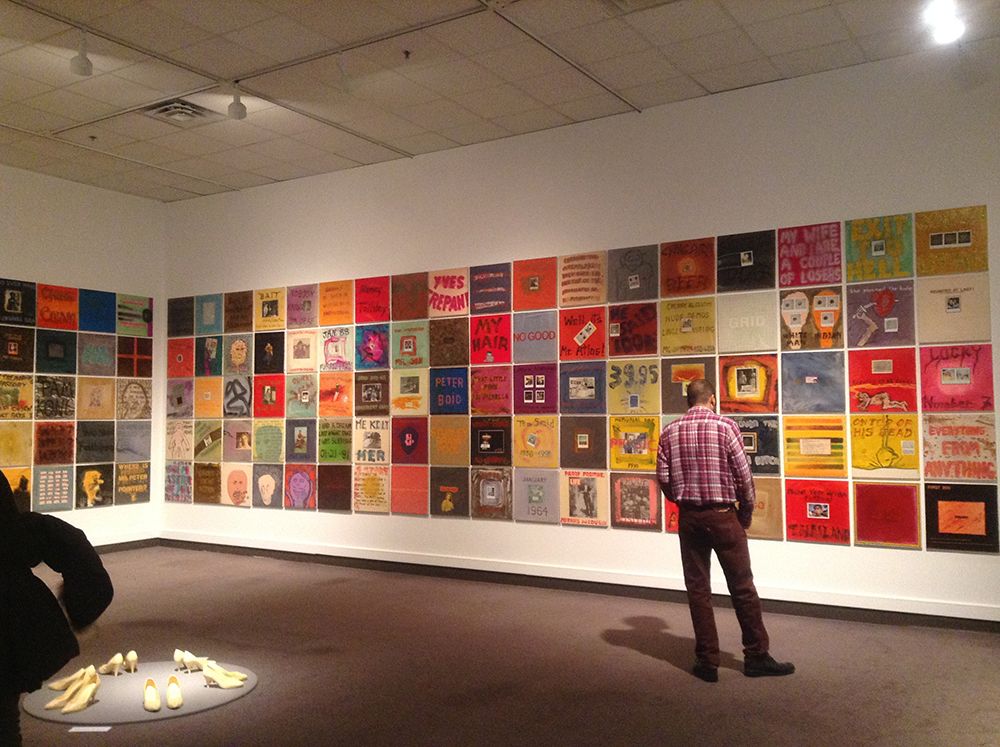 Made in Calgary. Art, art, baby.
I absolutely adored this exhibit of various mixed-media artworks. Acrylic, cut-outs, photographs, old newspapers, funny memes, etc. All individual display of a parody, news, shoutout, thoughts, ideas, presented side-by-side to form one unifying wall of universal fact: human complexities to which everyone can relate to.
Many Faces, Many Paths: Art of Asia
The Asian Gallery is an integral part of Glenbow's effort not only to bridge cultures while building awareness of the diverse communities of Canada but also to make Calgary the home of some of the world's most accomplished works of art.
~ Glenbow Musem
I felt closer to home when I came here. It also fired up a long dream of one day traveling the whole of Asia to see more of these Asian wonders.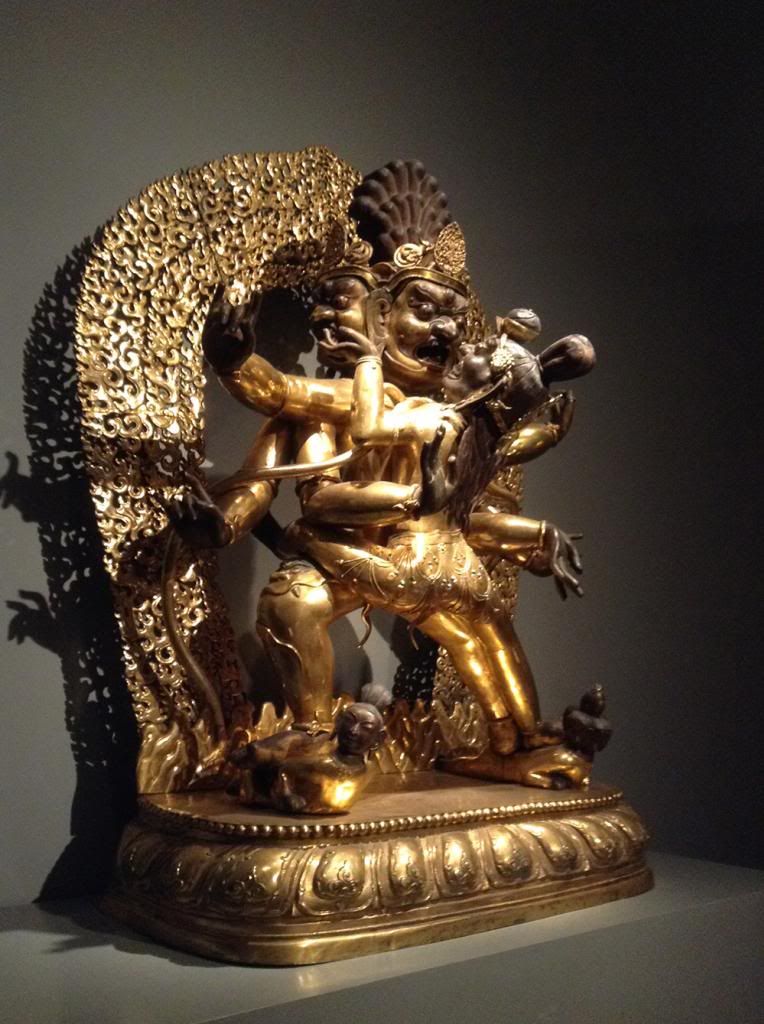 Mahachakra Vajfapan
Mongolia, Tibet or China
ca. 18th Century A.D.
Mahachakra Vajfapani is one of the protectors of the holy city of Lhasa, in Tibet. He is joined here with his consort, Sujata, who is a personification of his wisdom. The ferocious expressions on their faces depict the ecstatic moment of wisdom and compassion coming together.
Heroic Buddha
Gandhara
4th Century A.D.
This strong, dignified form express great power, self-possession and serenity of the Buddha.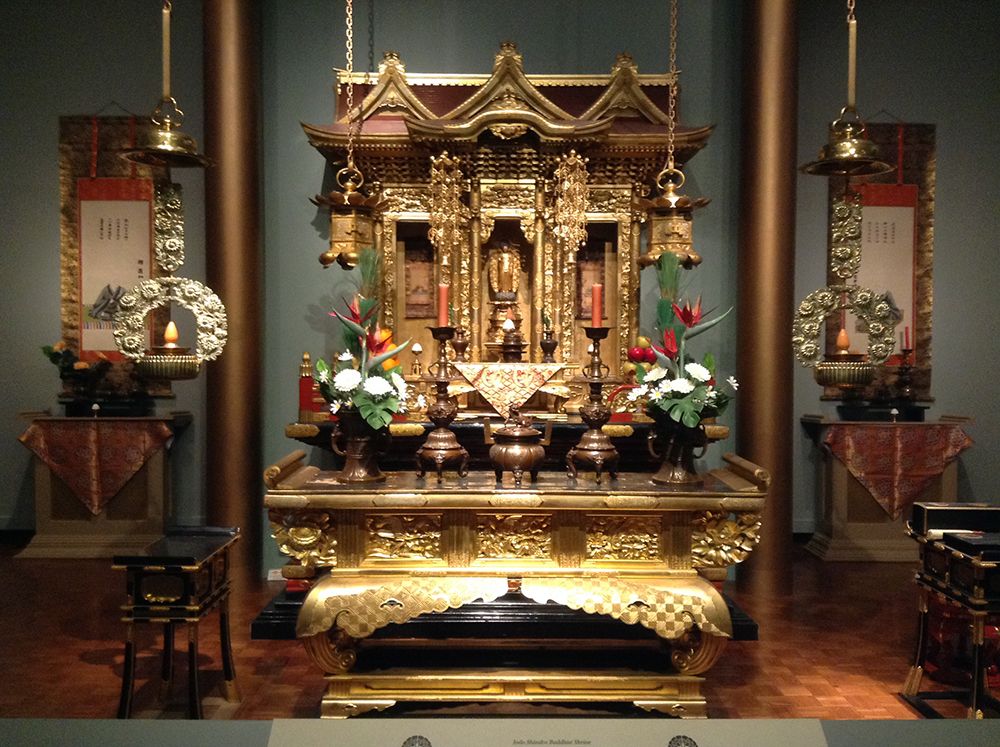 Jodo Shinshu Buddhist Shrine
Built in Kyoto Japan, early 1930s.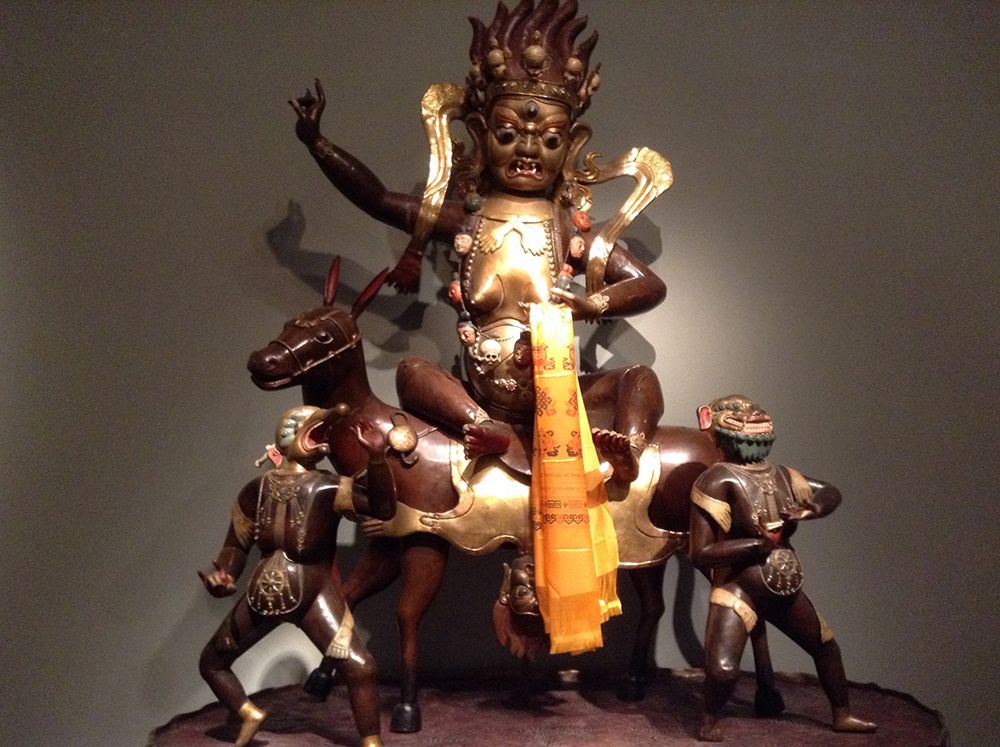 Palden Lhamo
Mongolia, Tibet or China
ca. 19th century A.D.
This goddess is the guardian deity of the holy city of Lhasa, and of the Dalai Lhama. Palden Lhamo symbolizes the strength which each human being requires to confront and overcome his or her own negative emotions, such as jealousy, hatred, and ignorance.
Buddha
China
13th-14th century A.D.
This figure symbolizes the idea that the Buddha's existence extends beyond his actual birth and death dates into past and future times. Sculptures of Buddha also represent the five directions (the four compass points and centre) of the universe.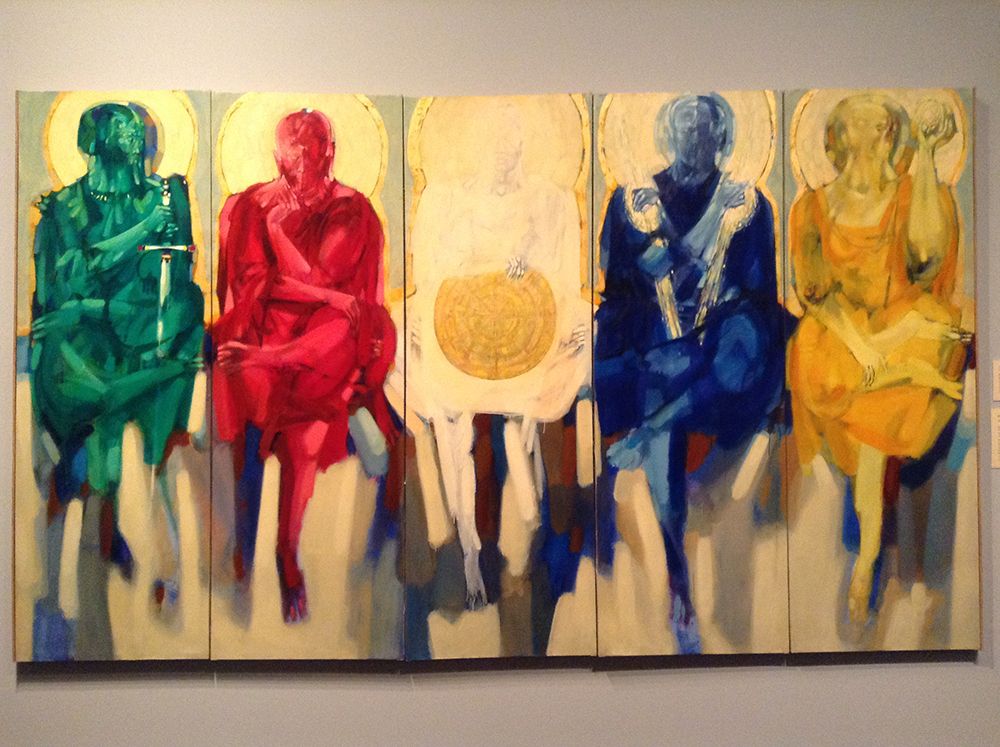 Four Heavenly Guardians of Four Directions in Land of Buddha (Tibetan), flanking a Central Figure of Shakyamuni [Sage of the Shakyas]
The bright colours relate to four directions of the Tibetan Book of the Dead.
Historical Art from the Glenbow Collection
Barbed Wire Bronco
This statue captures the horse's sheer muscular sinew and unquenchable spirit. Ironically, it is made of the very wire that ultimately fenced the wide-open reaches of the prairie grassland.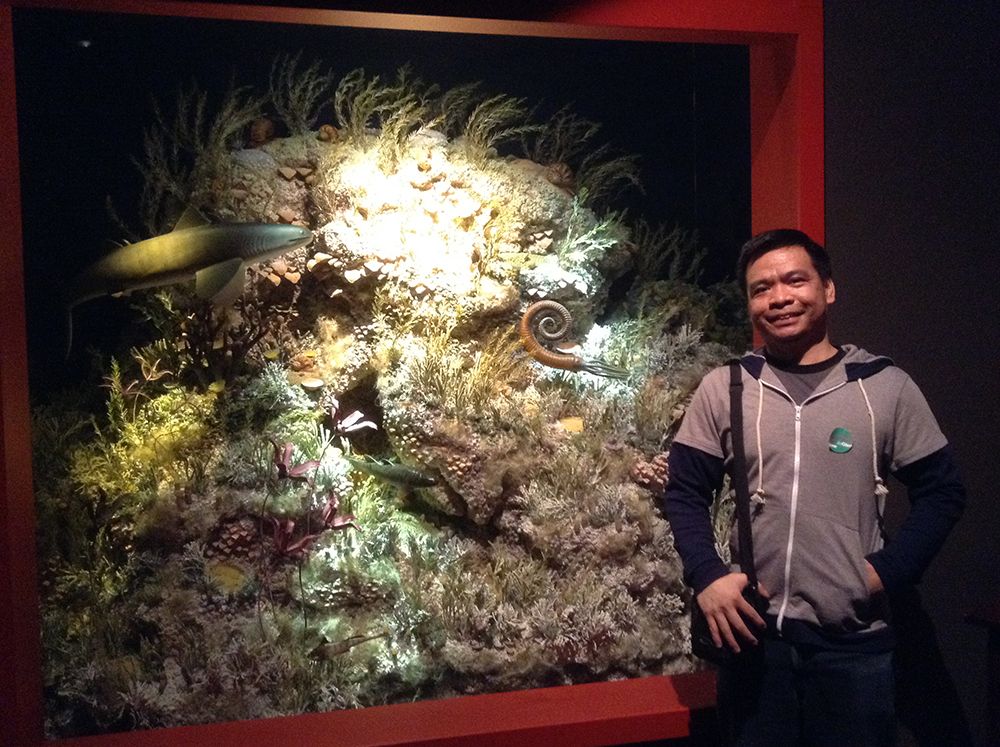 Understanding the "Age of Fishes"
During the Denovian Period, 375 million years ago, a tropical sea covered most of Alberta. In this re-creation, branching coral grows on the slopes of a shallow water reef.
The remains of life held in these giant marine reefs were the first step in the creation of Alberta's oil and gas.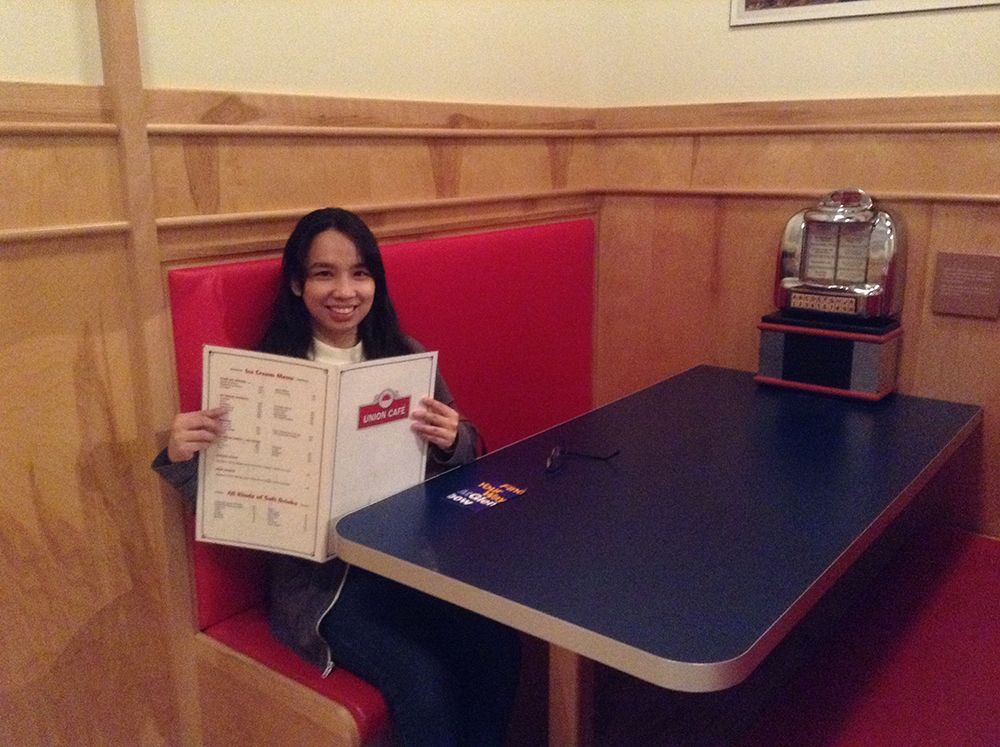 Union Cafe
A replica of a cafe from the old times. Note the old jukebox model found at the end of the booth.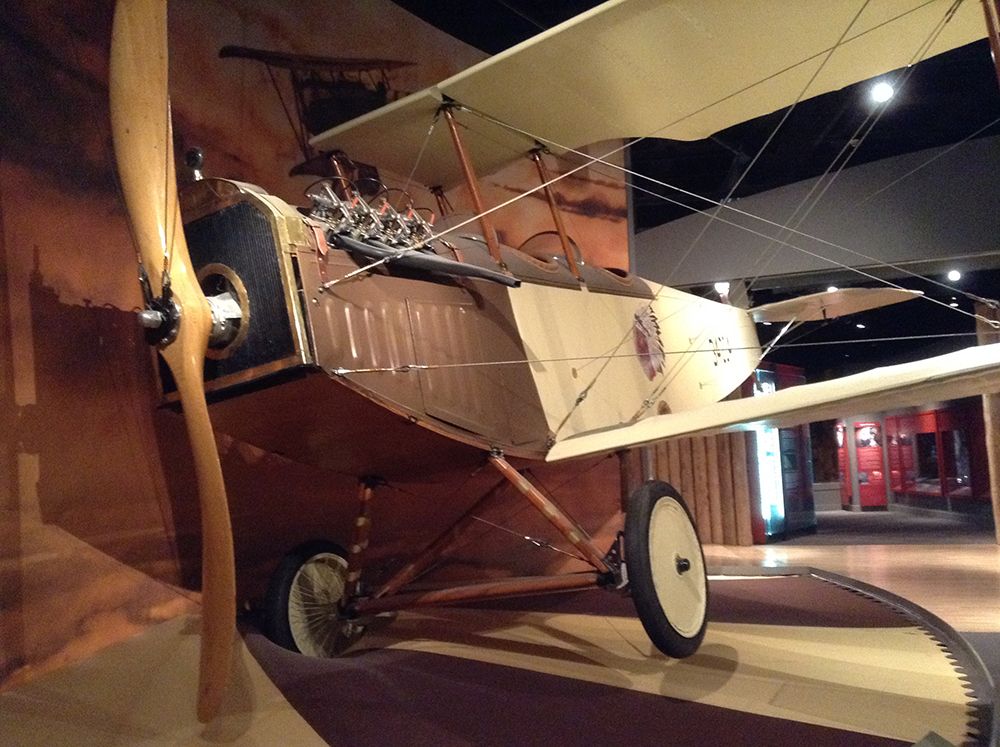 Putting a Bird Back in the Air
Fred McCall believed Calgary needed to remember the Curtiss Jenny, so he built one.
He felt the historic plane must be seen in person, in order to appreciate its beautiful design, the audacity of its construction, and the nerve of its pilots.
Mineralogy
The gallery is a popular stop for geologists, rock hounds, and visitors of all ages.
Minerals are beautiful no doubt and I found a new appreciation for them seeing them in a collective display of shape, sizes, colours and brilliance I never thought was so many in kind. They were absolutely beautiful. Now I have an idea of what kind of jewelry I would like to have one day.
Calcite.
Different Colour Variations
The Quartz Family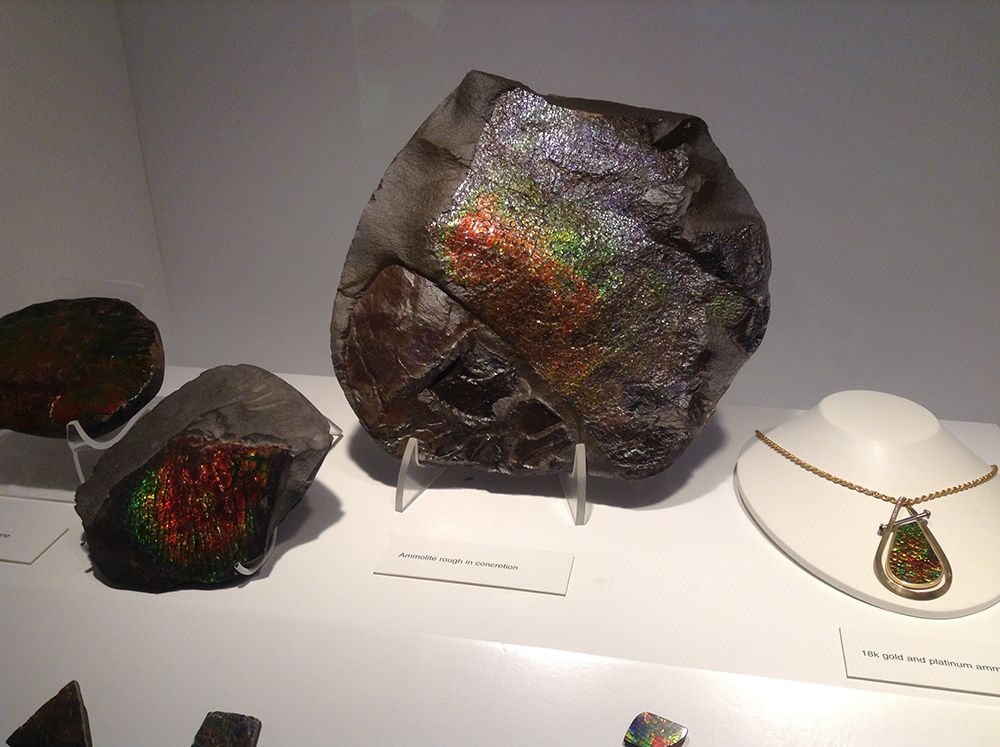 Ammolite – Canada's Gemstone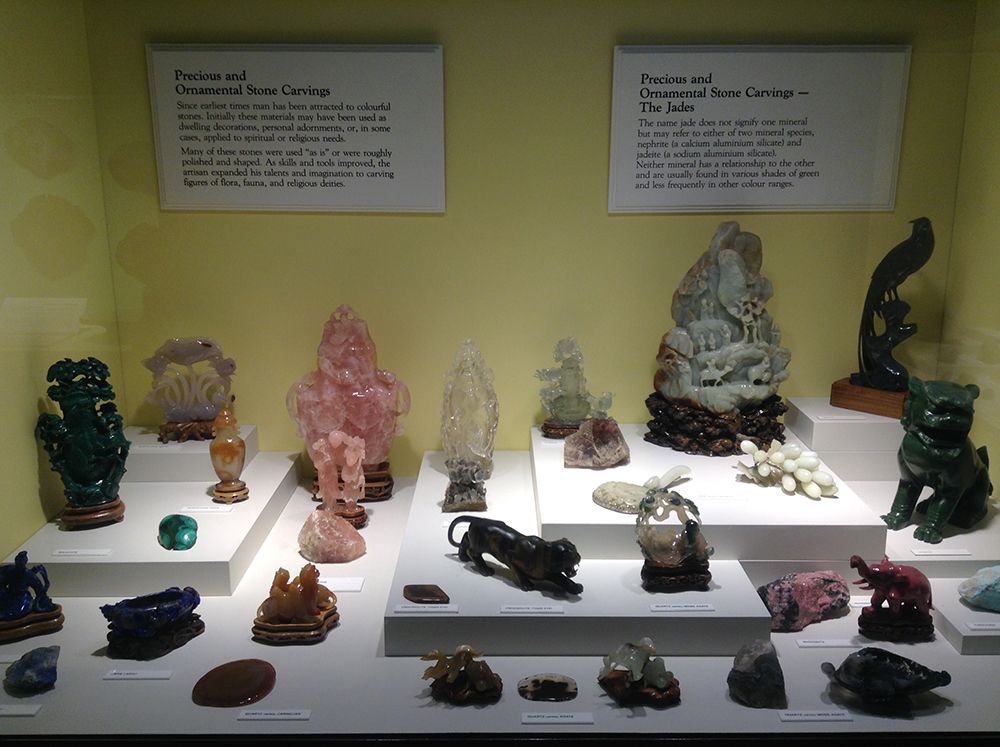 Ornamental Stone Carving
Warriors
This exhibit compares cultural approaches to war and to the people who do the fighting. First Nations of the Plains, Maoris, Samurai, Medieval Europeans, and contemporary society are featured in this eclectic and stimulating presentation.
~ Glenbow Museum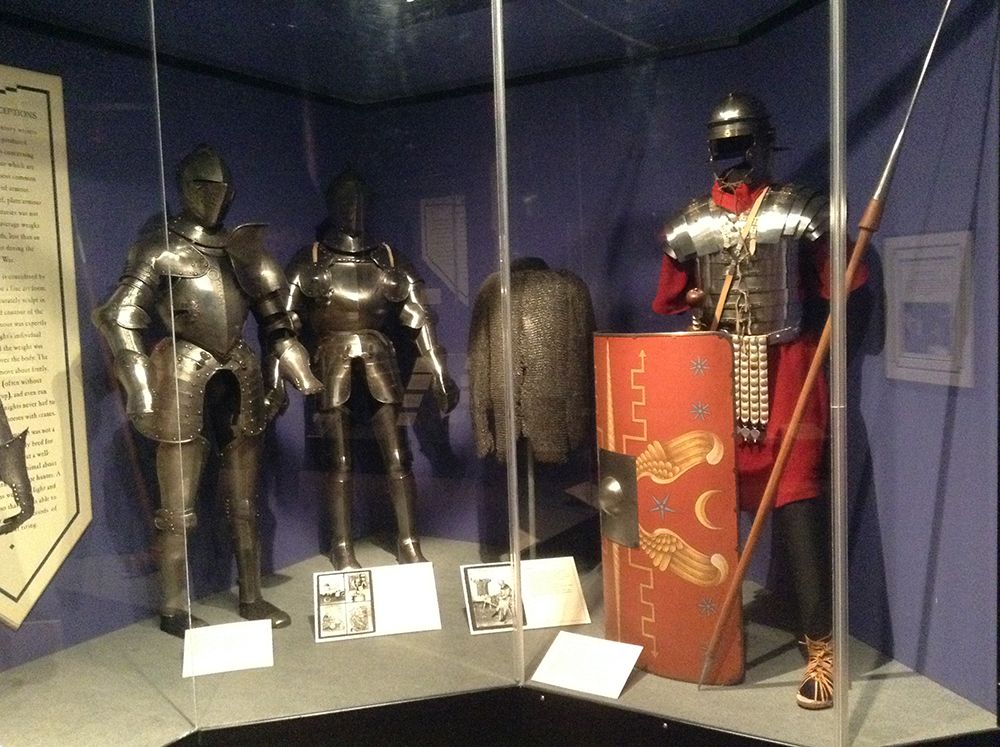 Medieval Misconceptions
Medieval Misconceptions
The making of armour is considered by modern historians to be a fine art of form.
The Making of a Knight
Before becoming a knight, a young man has to become a squire to learn to look after horses and weapons. He will learn how to fight hand-to-hand with sword and mace, and how to fight on his house. Only after a knighting ceremony, could he be called a knight.
This exhibit creeped me out a bit since it looked so real. I felt the figure would turn around anytime.
The Workshop
This workshop is typical of a small establishment that might have been found in the castle of a powerful nobleman.
Too bad some exhibits are off limits but the reasons are understandable. I will definitely go back to Glenbow when a new exhibit comes. Cheers to art!